OUR NATURAL SKINCARE LINE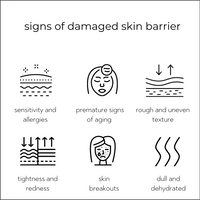 Could Your Skin Barrier be Damaged?
Your skin barrier is essential for good skin health and needs to be protected in order to function properly.

Our primary goal, while we start to formulate a product, is to repair and support the skin barrier function.
We care about skin wellness through repairing and supporting skin barrier function with natural and scientifically proven barrier repair ingredients to protect your skin wellness.
EXPLORE THE BARRIER REPAIR PRODUCTS
Customer Reviews
Loved this moisturiser! It is not oily or has thick texture like some spf creams, is colorless and doesn't have that white like color. Feels soft on my skin, does a great job of moisturising, my skin doesn't feel dry at the end of the day. I would definitely recommend this moisturiser!

Yasemin Ozay (01.12.2021)
It is like moisturizer even tough it is tonic, I put my face during the day like moisturizer between during and night routine, it helps my skin stay moist. I really like it. I would definetely buy again, it arrived safe and quickly nicely packaged.

Elcin Onat (07.12.2021)
The best natural sunscreen I've ever used. It has a wonderful feel, is light and moisturising. My only problem is that I have the ones in old amber bottles and I can't reach the creams at the bottom, it doesn't pump, other than that it's a great cream.

Gunes Tan (21.01.2022)
Hello!
My name is Evrim, I'm a pharmacist. I'm the founder and owner of The Pharmacist Lab - Natural Skincare. I started this journey to heal my own skin problems to provide myself natural, organic, clean, and effective skin products.

I suffered from rosacea my entire life until I decided to create a movement centered on supporting a growing community of people who are ready to take their skin health into their own hands.

We care about skin wellness through repairing skin barrier function with natural barrier repair ingredients to support your skin wellness.

We know how overwhelming finding the right products for your skin type can be. That's why we work one on one with our clientele to help them find the best fit.

DISCOVER PRODUCTS